Inside a major AAPI protest
Asian-American racism is not uncommon. It has been echoed throughout history that Asians are "oriental foreigners", who are extremely different from the average person. Over the past year, COVID-19 has continued perpetuating this false notion. Because of this, hate crimes against Asian-American and Pacific Islanders (AAPI), have drastically increased. 
In early March, a letter was sent to the family of a deceased Korean man, named Byong Choi,  in the Seal Beach retirement home known as Leisure World. The letter was handwritten and depicted anti-Asian sentiment, including that his death led to, "One less Asian to put up with." 
The AAPI community was understandably upset and organized a protest to display their disapproval towards Anti-Asian sentiment. Both Leisure World residents and other members of the community attended, standing on a sidewalk with signs. 
Two attendees were Beatrice and Sonny Nghiem, Vietnamese immigrants who have lived at Leisure World for around six years. They heard about the protest by word-of-mouth and decided to attend to show their support. 
"We went up to the rally, we didn't have that much time, we had about half a day," said Beatrice. "So we were trying to do it [make posters] by hand. And [we thought] let's just call some people to go and show up to offer, to show the outside world that we are one family. It doesn't matter if they're Black, or white, or Asian, we are all one family."
Eventually, the media caught onto the protest, interviewing and filming attendees. Because of the publicity, another more organized protest was planned. Everyone from the Leisure World's Filipino Club president to a representative from the Republican Party attended. This was more of a conference, with each representative speaking and demonstrating solidarity. 
"It was a back-and-forth with about 200 people inside," Beatrice commented. "But the first one was still outside…and as people were coming by they would honk their car [horn]". 
According to the Nghiems, a lot of non-Asian people showed up at the protest to stand for the cause.
"I was surprised because a lot of people came…and it's not only Asian people," said Beatrice. "So a lot of American people, white people, came and thanked us for coming. One-third [of participants] were all white people…they just want to show that there is no room in this community, or anywhere, for this kind of hate crime."
Overall, that sentiment seems to be the unanimous consensus among attendees of the protest. The protest was to stand in support of the Korean man's family and to express that kind of hatred was not welcome in the community. 
"The main reason for us to rally was to demonstrate that this is not right," finished Beatrice. "It cannot happen, not only in Leisure World but in the outside world. We are people too. It's just different skin color. That is it.
Leave a Comment
About the Contributor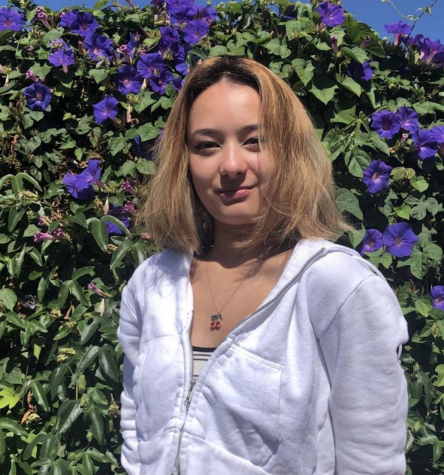 Brooke Horvai, Assistant Opinion Editor
Brooke Horvai is a member of the Class of 2022 at Notre Dame High School in Belmont, CA (NDB). She is the assistant opinion editor for the school newspaper,...