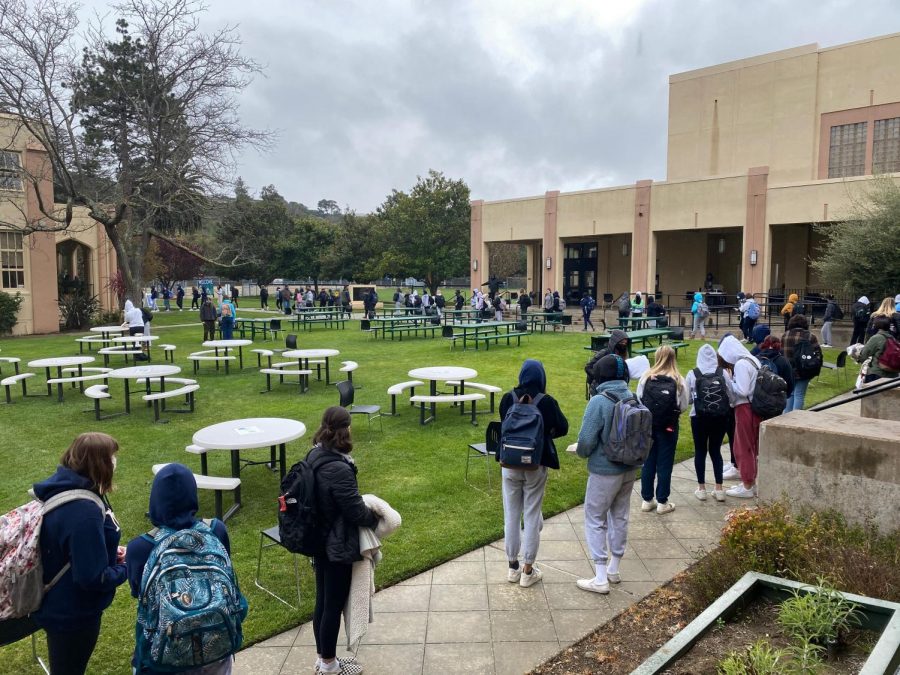 Robert Rojas
With students finally attending school on campus comes the new lunch model. As required, students must remain six feet apart while eating. This means that a lunch table can only be occupied by one person, making it hard for students to interact with their friends. Friend groups are constantly reminded to stay six feet apart by teachers and any administration who sees them. In order to carry on a conversation, friends have to practically yell at each other. Because of this difficulty, many students have mixed feelings about the new system.
"Last year, my friends and I all tried to cram into two really tiny tables and there were like twenty of us," said junior Sophia Dinelli. "[Now] all my friends are super spread out so it's really hard to have conversations because we're yelling at each other from across the tables."
Dinelli later commented that the experience was much less social and personal. That perspective seems to be shared through a majority of the students, who want to have private conversations without yelling their thoughts to the entire student body.
While some students would prefer to spend their lunches talking with friends and being social, others appreciate the space and break it provides.
"I didn't get too involved in the conversations because it's just far [away]," commented junior Lexi Coral. "I don't want to scream so I'll probably just spend my time doing something else…just watching shows or shopping online."
For more introverted students like Coral, lunch is a much-needed breather from classes. And for some girls, that breather necessitates headphones and a laptop.
As the hybrid model becomes the new normal, so does the new lunch model. Eventually, eating while separated will become the standard, as has everything else during the pandemic.
Throughout the student body, the overall consensus is that lunch is not truly lonely. Yes, it is difficult to talk to friends and share the same connection, but it is still a relief to see the people we have grown close to.
"Even though we weren't really able to hold a conversation, we just like being around each other," finished Dinelli. "I think it was really important and I think that we'll continue to do that because that was something that we were really missing at home…Even if we can't talk, being around each other is a really great thing."