NDB one year later
Ask any NDB student what they remember from Friday, March 6, 2020, the last day on campus of the 2020 school year, and chances are they have a story. Even with it being a seemingly normal day, it stands out in the minds of students from last year.
"I remember it being a normal day for the most part. Went to school, went home. Everything was just the normal routine of each week. It all was pretty much like the calm before the storm in a way," said now sophomore Cassidy Morris on the seemingly monotonous day.
Even with the day seeming like it was just one out of 180, it ended up being one for the books. On campus, talk of events being planned took on a lot of attention, although these events would never truly come, as remembered by former ASB President Annalee Wolfe.
"March 6 was the last day of school that I was able to attend in person as a senior. ASB had just finished prepping for Aquacades and was a week away from the event. I had seen a bunch of my friends that day and did not realize that would be the last time I would be on campus with all of my classmates before graduation. Looking back I didn't realize how much I took for granted," remembers Wolfe. At the time, she was fully focused on trying to put on Citycades, which was scheduled on her eighteenth birthday, March 20, 2020. While the banner flew for months outside school even after being shut down, the event never came.
Other students, like current Ambassador Board President Maggie O'Brien, remember March 6 for the other members who joined us at NDB that day.
"On March 6, we hosted Little Sister day, where I lost my phone in the beach volleyball courts and made a bunch of 5th graders look for it for like 30 minutes," explained O'Brien on how the little sisters of NDB took much of the focus, and these students missed what would have been some of their last days in their younger grades.
Some students, like current junior Katie Spencer, remember the day not because of what happened on campus, but because of their campus absence.
"The week of March 6, 2020 I was really sick. I ended up being sent home on that Friday and haven't gone to a day of on-campus school since!" shared Spencer on how she was not even present on her last day on campus.
While COVID-19 had begun to be discussed, students were still relatively blind to what was coming ahead.
"I remember that it was Friday and I was super tired, it was a long week. All I could think about during my last two blocks was that I couldn't wait for the weekend. I had no idea that it would be my last day of in-person school for the year," said current senior Alyssa Enriquez on how truthfully unaware she and other students were on what was soon to come.
Coming into the weekend of the 6th-8th, the buzz around COVID-19 became more significant, and it soon became apparent that this was a bigger issue than we could have imagined. Click on the TV, go to any news source, and COVID-19 was the biggest thing being talked about.
"I remember coming home from school and looking at the news that schools were soon to be canceled and we were required to self-quarantine to ease the cases," senior Mabrey Cliff explains on what followed her day on campus.
Still, until Sunday, March 8, 2020, at 8:57 PM, the campus community believed they would be returning to campus like normal on Monday. An email was sent from previous Head of School Marianne Osmond, announcing that a three-day cleaning break would be implemented. Students were expected to use Schoology to gain their classroom materials, which soon became common practice for the remainder of the year.
"I went to Starbucks with three of my best friends after school and went home. I started working on my Socratic Seminar for U.S. History that was supposed to be due on Monday, but we never ended up doing. My friends picked me up later from my house that night on March 6 and we went to the Capuchino high school baseball game and drove around San Bruno singing the victorious soundtrack. I spent the rest of the weekend with my friends, completely clueless that this weekend would be the last fun one for a while," shares O'Brien on how like many students, she treated the weekend like every other, not knowing it would not be the same.
Since March 6, NDB's shut down was extended multiple times, going from three days to three weeks to the end of the 2020 school year to September 27th to the beginning of January to eventually where we are now with school opening back up March 1st, 360 days later. In these 360 days, the community experienced a virtual Senior Day of Reflection, two rounds of online finals, drive-through graduation, Zoom freshman orientation, senior drive-in movie night, socially distanced outdoor sports, learning pods, two members of administration leaving, a whole new approach to winter formal, and lots of lots of masks. Regardless of what is remembered from March 6, 2020, the world as a whole took a hit from COVID-19, and hopes for the world returning to "normal" continue.
About the Writer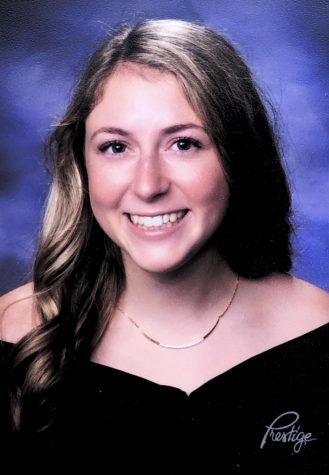 Paige Clarke, News Editor
Paige Clarke is a Senior at Notre Dame Belmont and is in her second year as a Catalyst writer. As a Junior, Paige was the Sports Editor. Paige is a student-athlete...