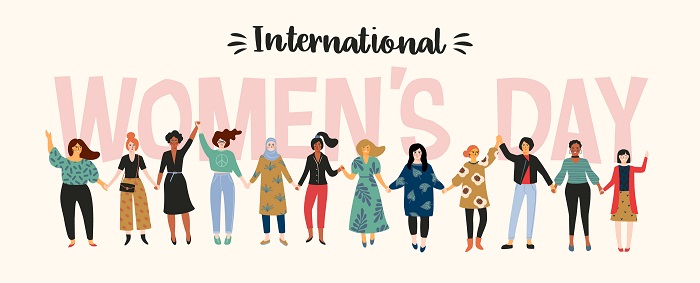 Fidelus Technologies LLC.
International Women's Day 2021 took place on Monday, March 8. This day celebrates any cultural, political, and socioeconomic accomplishments, such as the women's rights movement. It additionally highlights issues women still face today, including gender equality, reproductive rights, and violence against women.
International Women's Day has been observed by many since the early 1900's, with the very first gathering being held in 1911. It all started in 1908, when women's oppression and inequality were especially transpiring. This encouraged countless women to become more vocal and active in campaigning for change. More than 15,000 women decided to march through New York City, to demand shorter hours, better pay, and of course, voting rights.
The colors that symbolize International Women's Day are purple, green, and white. Purple represents both justice and dignity. Green signifies hope. White represents purity, although being a quite controversial concept. These colors originated from the Women's Social and Political Union, which took place in the United Kingdom in 1908.
Each year, there is a different theme for International Women's Day. For example, last year, the theme was "An equal world is an enabled world." This year, the theme is "Choose To Challenge," with a huge emphasis on inclusivity. Together we are all called to recognize and take part in the fight against gender bias and inequality. Additionally, we are called to celebrate the amazing women who have paved the way for us and allow us to recognize our potential. Some examples are Sojourner Truth, Elizabeth Cady Stanton, Lucretia Mott, Amelia Bloomer, Susan B. Anthony, Frances Ellen Watkins Harper, Mary McLeod Bethune, Lucy Stone, Daisy Elizabeth Adams Lampkin, Alice Paul, Ida B. Wells, and Mary Church Terrell. Each of these twelve outstanding women took part in the women's suffrage movement.
International Women's Day does not specifically belong to a charity, group, government, or organization. This day belongs to everyone, primarily those who care about human rights. So, make International Women's Day a day to speak up, stay informed, and positively influence and celebrate women. Although we have come a long way, such as having the first ever female Vice President, Kamala Harris, in United States history just this year, there is still work to be done to eliminate gender bias and discrimination of women in society. As young ladies who attend an all-girls Catholic school, it is our job as NDB students to take part in the action and advocate for women's equality.