Virtual Aquacades
Long time NDB sisterhood tradition, Aquacades, returns in a virtual setting after being canceled for the first time in NDB history last year early on into the COVID-19 pandemic. This year, efforts by NDB staff member and senior class coordinator, George Retelas, and ASB officers have enabled virtual Aquacades to be possible.

For the first-ever digitally streamed Aquacades, it is suitable that Disneycades+ will be the theme. Students, staff, parents, alumni, and more will be able to access the virtual streaming, spreading the sisterhood celebration farther than ever before. With hopes of putting together the biggest virtual event possible, ASB officers have planned four categories being Marvel, Star Wars, Pixar, and Disney.

Gathering on campus for a large scale event would be challenging in the current state of the COVID-19 pandemic, so Senior Class Coordinator, George Retelas, has set out a plan for the beloved tradition's return.

"A pod of twelve girls from each class will be chosen, along with additional "waitlist" spots in case a member decides to drop out of the routine," explains Retelas. "There will be opportunities for people to participate in swim, deck, and even backdrop! These pods will be able to come into school to practice their routine before Aquacades in late April. Sign-up sheets for the pods will be sent out shortly and positions will be given on a first-come, first serve basis. The virtual Aquacades shown in a presentation is going to be awesome to watch! People can watch it from anywhere at watch parties.

"

"It will be our biggest Aquacades ever because it'll be broadcast everywhere for alumni to view. Different limitations create an opportunity to be creative!""

— George Retelas

"

Students will have the opportunity to join their pods on Wednesdays, and meet at NDB to be able to put together a single routine to be performed and then filmed for the virtual streaming.

ASB officers have spent a lot of time getting creative, and coming up with a way to host Aquacades was initially a challenge, but was soon overcome.

"We might not do spirit points for Aquacades, just because we do not want people to have that layer of stress in signing up and with COVID-19 and the way Aquacades is happening this year," said ASB Vice President, Andrea Aquino.

ASB officers want this Aquacades to be stress free, and for everyone involved to be able to just enjoy the experience.

"We decided there would be no judges judging the teams because we wanted to release a little bit of stress off of the groups, especially the freshman since it is their first time and they are still getting to know what Aquacades is, and it is honestly different this year, so it is a bigger adjustment for them," said ASB Athletic Director, Carmela Zumot.

Overall Aquacades being a virtual event is going to be a different experience, but all the work from the students, teachers, and ASB is going to make for a huge virtual event that can be experienced by students, families, and NDB alumni.
Leave a Comment
About the Contributor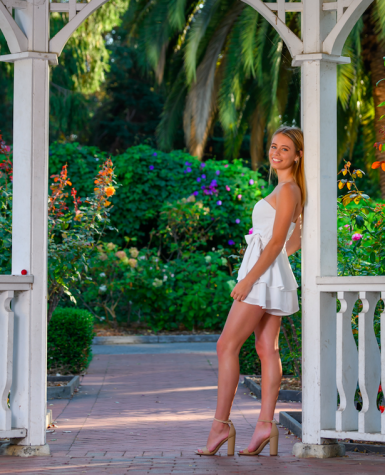 Charlotte King, Staff Writer
As a senior, Charlotte King is a new staff member to join The Catalyst. She hopes to be able to write stories about NDB for the community to enjoy throughout...