Robert Rojas
On February 12, NDB juniors attended the 19th annual Gatsby Ball. The Ball is put on by the English Department as a celebration for students after reading The Great Gatsby in class. This year, the event moved to Zoom, where juniors chose between a number of breakout rooms with different Gatsby-related activities.
Before the event, students received boxes that included snacks, candies, and drinks, and glasses for during the party. 20s music played throughout the night, and students and teachers dressed up in their best Gatsby-esque outfits for the occasion. 
"I think [the English Department] did an amazing job making the experience as fun as possible, even with being online. The gift bags they made were such a nice touch," commented junior Emma Nilsoft. "I had such an amazing time and it's something about high school I will always remember."
Junior class president Ali Lewis led students in a toast at the beginning of the night, and class photos were taken with students raising their glasses.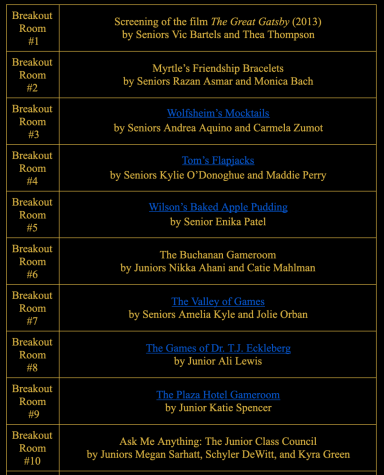 "I just wanted everyone to know how excited we were that we were all together and to be positive for the rest of the year because I know this wasn't the year we expected. So I just wanted to tell our class to hang in there and keep going, and to stay excited for new things to come," said Lewis on her message for the junior class in her toast. 
There were ten different breakout rooms, each led by either members of the junior class council or seniors. In those rooms were a multitude of different activities, including watching the film The Great Gatsby, making friendship bracelets, learning 20s-inspired recipes, and playing virtual games with peers. Students also had the option to join a Q&A with the junior class council. 
Before the event started, students could submit photo entries to a fashion show and contest. Juniors were sent a 20s-style makeup tutorial to follow or could choose to do their own design. During the Ball, the junior class voted on their favorites after entries were compiled into a slideshow with pictures. Best Makeup and Hair went to Kennya Olguin, Best Dressed to Clair Sapilewski, and Best Overall to Jorja Fox.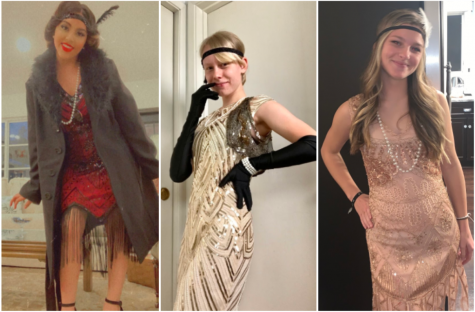 "I had heard from so many upperclassmen that this was one of their favorite events, so I had no hesitation in participating [in the costume contest]. Although the circumstances were very different this year, the English Department did a great job including as much as they could such as the fashion show," said Fox. "I entered the fashion show under the category of Best Overall, as I wore a flapper dress, feather, and of course a pearl necklace."  
This was the first event of the year for the junior class to come together and bond. Students responded enthusiastically by dressing up elaborately, engaging in the activities, and enjoying the chance to reconnect with their peers. 
"I really liked seeing everyone in costume and dressed up on Zoom… I think the Ball was important because we haven't really had any events just for our class this year, and I know junior years there's a lot of fun things that they normally get to do, so I think it was important that we still got to experience the Gatsby Ball," Lewis noted. 
Although the Ball looked very different this year, students embraced the opportunity to go back in time by a century and enjoy a night with their classmates.