2020: a timeline
It has been nearly 10 months since the lockdown order was mandated in March. Ten months of masks, social restrictions, and 6-foot circles. Not only has 2020 been an anomaly of a year in terms of the pandemic, but it has also presented itself as a year of social and political change.
Widespread police brutality, Black Lives Matter protests, a president impeached, and a new Supreme Court justice were just a few of the major headlines. And those are not including the environmental disasters this year: the fires in Australia and California killed hundreds, and acres of forest in South America were decimated. January feels like decades ago, so here is a recap of the past 11 months.
January
In January, COVID-19 was only just becoming a household concept. The first case of the virus in the United States was recorded, but COVID-19 still seemed like a distant problem and not something that pertained to our lives here in California. In other parts of the world, fires destroyed millions of acres in both Australia and the Amazon rainforest. In the political world, Donald Trump became the third president to be impeached after numerous trials on January 16 (History.com).
February
February brought continued negative development for the virus. The first death from COVID-19 was recorded in the nation. Trump said in an interview that the virus was "very much under control in this country"(FactBase). In the world of entertainment, Parasite became the first foreign-language film to win Best Picture. The film also claimed Best Director, Best Original Screenplay, and Best International Feature Film, cementing its place in movie-making history (On This Day).
March
With March came perhaps the biggest changes for day to day life. The World Health Organization called a global pandemic just 2 days after NDB closed its campus and began online learning on November 9th. March 9th also saw the American economy at its worst this year. The president claimed that he was "not concerned at all" about the rapidly spreading virus. Pete Buttigieg, Elizabeth Warren, and Micheal Bloomberg all dropped out of the Presidential Race. Each one of them decided to support Joe Biden.
April
April brought even stricter COVID-19 restrictions here in California, including the mask mandate. Bernie Sanders dropped out of the Democratic Presidential Race. This action helped clear the way for Joe Biden's win. The U.S. also saw a devastating advancement in the death toll. April marked over 50,000 deaths from the virus in the United States.
May
George Floyd was killed on May 25, a tragedy that sparked hundreds of racial inequality protests all over the country. Protests in Minneapolis began the next day, and over the following week, the movement spread to cities such as Memphis, Los Angeles, Portland, New York City, and St. Louis. 6 people were shot on the 27th. This death toll has risen to include over 20 now (New York Times).
June
In June, the United States became the first nation to reach over 2 million cases of COVID-19. Biden was declared the official Democratic nominee. This month also marked a historic ruling in the Supreme Court. The Court officially prohibited job discrimination based on sexual orientation and gender identity. This ruling was a huge win for the LGBTQ+ community.
July
In Europe, covid restrictions were loosened, and borders opened to 15 countries considered "safe" at the time, including the US. This decision was ill-timed though, for that same day marked 50,000 new cases in the United States, a new record (CNN).
August
On the 11th, Joe Biden announced his Vice Presidential nominee, Senator Kamala Harris. COVID-19 cases officially reached 25 million worldwide, a number that has more than doubled now. Along with this new number came Russia's announcement of a vaccine, Sputnik V. No data or test results have been released to prove that this vaccine is real or effective. Twenty-seven fires ran rampant across California, and Governor Gavin Newsom declared a state of emergency on August 18.
September
As Black Lives Matter protests continued throughout the country, more than 50 were arrested in Oregon in early September. The month also brought a mask of orange haze over the Bay Area, turning the already-difficult stay-at-home order into a stay-in-your-home order. Nearing the end of the month, President Trump announced his plans to swear in a new Supreme Court justice just 45 days before the November election.
November
After 4 turbulent years of President Donald Trump in the white house, Election Day arrived. On November 7th, Vice President Joe Biden was elected to be the next President of the United States. With over 80 million votes, Biden won more voters than any other president in the history of our country. There were also great steps in COVID-19 vaccine development. Pfizer, an American pharmaceutical company, released results of a trial including over 40,000 participants. The trial was even more successful than Pfizer predicted and yielded a 90% effective rate.
December
Ah, December at last. The holiday season, however different it may be amidst COVID-19, will provide much-needed cheer and togetherness. The global pandemic-ridden year is drawing to a close, and hopeful developments have been made on nearly all fronts. 2021 looks promising, although we must remember that the issues we have faced this year will continue even if things are looking up.
Leave a Comment
About the Writer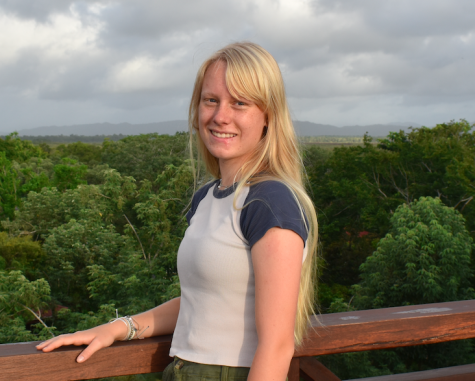 Clair Sapilewski, Managing Editor


Clair Sapilewski is currently the Managing Editor for the NDB Catalyst and this is her second year writing articles. She is looking forward to...