How do students feel about social distanced Thanksgiving?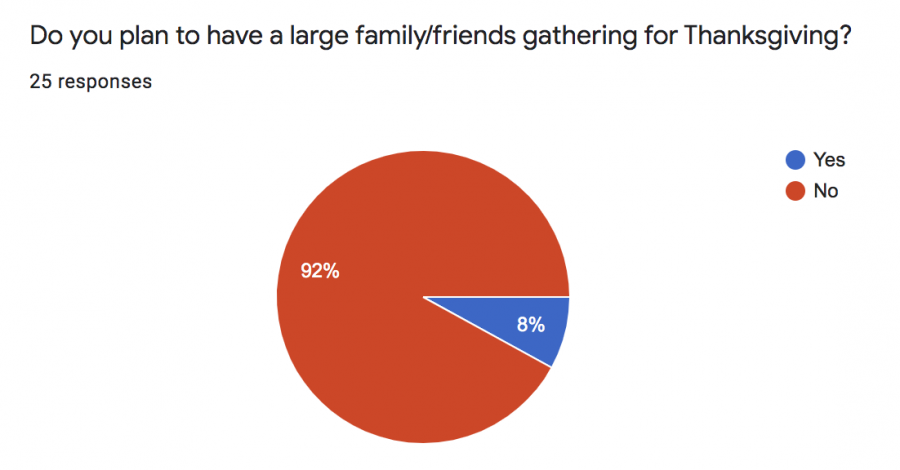 By Gulianna Ceschin
In response to a recent surge of COVID-19 cases in California, many counties have shifted back into the red or purple tiers. The state of California has also created additional guidelines to follow over the Thanksgiving holiday and for the foreseeable future. For all counties in the purple tier, a limited stay-at-home order has been put in place. It states that people may not participate in interactive activities between the hours of 10:00 pm and 5:00 am. This order will be in effect from November 21, 2020, to December 21, 2020.
The state government also advised that Thanksgiving celebrations should take place with no more than three households together at once. They also suggested preventative measures including masks and social distancing, windows opened, and outdoor activities if possible.
In a survey sent to the NDB students, an overwhelming amount said that they celebrated Thanksgiving locally and with a small gathering of people. Many students got tested for COVID-19 before they saw any family or friends during the holiday. In response to the rapidly increasing COVID-19 cases and the new guidelines set by the state, many NDB students said that they downsized their celebrations or moved them outside. This way, they celebrated with others while still being socially distanced. Some opted to celebrate more casually this year because of the current status. Most NDB students were not greatly impacted by these new guidelines because they were already planning to celebrate with a small socially distanced gathering and take preventative measures, such as wearing masks.
Some ways that NDB students celebrated the holiday while staying safe to include spending time with their family and going outside. People cooked, baked, and enjoyed all of the classic Thanksgiving foods. Some at-home activities that students participated in were watching movies, playing games with family, Zooming with other family members, and reading books. Students also went outside and hiked, surfed, went on walks, and made campfires all while socially distanced.
Even though COVID-19 has brought many new challenges to the world, the NDB community is still finding ways to connect with their families and friends and celebrate the holidays.