Skiing spots close to the Bay Area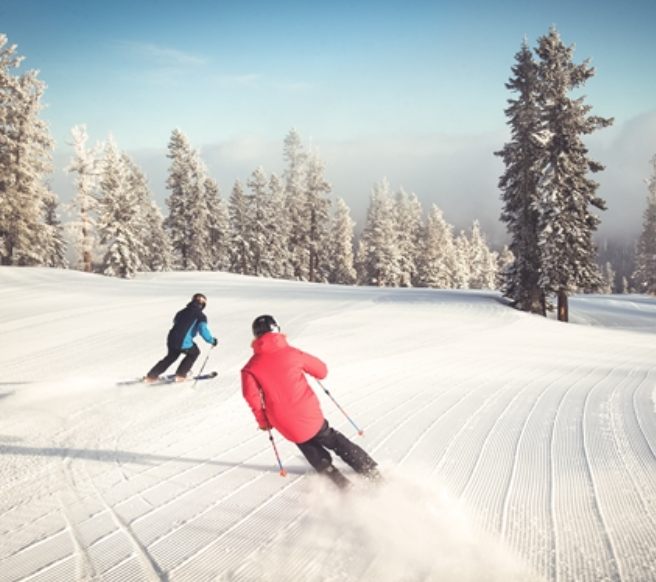 Living in the Bay Area, we are in the prime location for being able to go to the snow, but not actually being able to live in it. From San Francisco, a drive to Tahoe is only an average of three to four hours away, and there are even more resorts that are even closer. Tahoe resorts average around 2 to 42 lifts, and range from beginners to advanced runs.
Tahoe is a broad categorization consisting of small cities in the general area. When hearing about Tahoe, a person could be talking about any of the four main cities: Tahoe City, Incline Village, South Lake Tahoe, or Stateline. There are thirteen main resorts, some very large, and some that only have two operating lifts.
The biggest resort in Tahoe, where the 1960 winter Olympics were held, with 42 operating lifts, is Squaw Valley in Olympic Valley. A drive from San Francisco to Squaw Valley is 196 miles, and generally an average of about three hours.
The second biggest resort in the Tahoe area is Heavenly Mountain resort. Heavenly spans from South Lake Tahoe CA, to Stateline Nevada. Heavenly has 30 lifts, and an average drive from San Francisco to Heavenly resort is three and a half hours, and 189 miles. Another big ski resort is Northstar Ski Resort, in Truckee California with 20 lifts. Northstar is 195 miles from San Francisco, which is an average drive of about three hours.
Other resorts include Homewood Mt. Rose, with eight lifts, and 205 mile drive. Diamond Peak, with six lifts, and a 208 mile drive. Sierra at-Tahoe with 11 lifts, and a 176 mile drive. Mt. Rose with two lifts, and a 215 mile drive. Alpine Meadows has 13 lifts, and is 200 miles from San Francisco.
Kirkwood is 182 miles from San Francisco with 15 lifts. There are also four other smaller resorts in the Tahoe area: Soda Springs with two lifts, Donner Ski Ranch with six lifts, Boreal with eight lifts, and Tahoe Donner with five lifts.
Tahoe would be one of the best snow sport areas to go to from the Bay Area, however, it is not the only place for skiing. There are also three main alternative lodges that are not in Tahoe. There is Dodge Ridge, a small and cozy resort good for beginners and intermediates. Dodge Ridge has 12 lifts, and 62 runs. A drive from San Francisco to Dodge Ridge is 164 miles, and only an average of three hours.
Be sure to Stop by Alicia's Sugar shack, in Twain Harte, on your way up. A second resort is Bear Valley, is also another small cozy lodge consisting of nine lifts and 58 runs. One last resort is Badger Pass, in Yosemite. Badger Pass has five lifts, and is a four hour drive from San Francisco.
Living in the Bay Area, it comes with the pleasure of many resorts nearby for a weekend trip, or just for day use. Ski resorts will be open during the times of COVID-19. Resorts include various activities besides skiing and snowboarding, such as shopping, taking lessons, ice skating, and much more. Hopefully, everyone will be able to stay safe and good time during their stay at the different resorts.