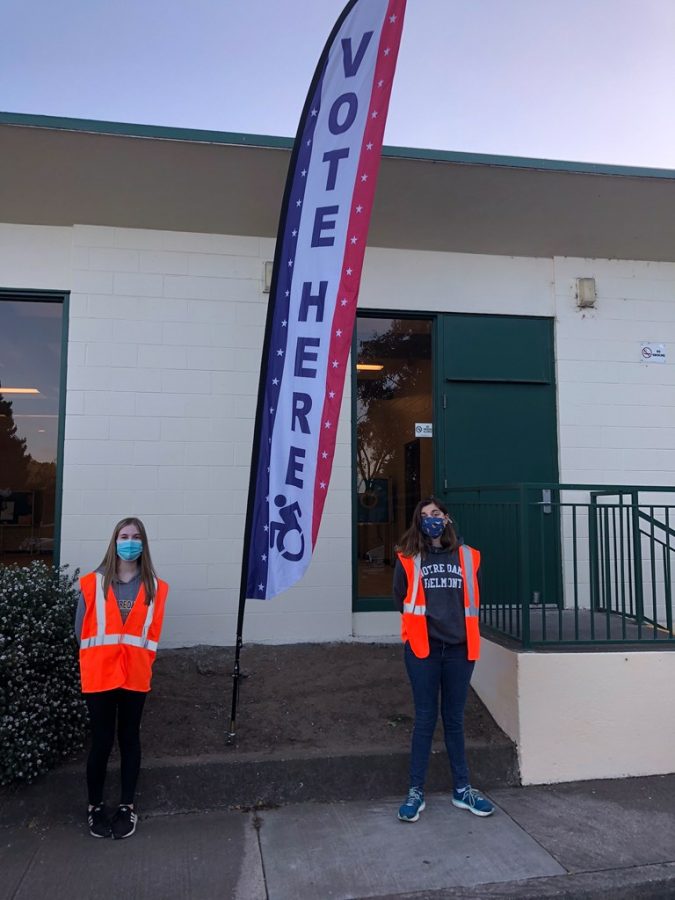 Photo courtesy of Payton Peters
While many high school students are not old enough to vote, two NDB students found another way to participate in the democratic process this election season. Juniors Angelina Chopoff and Payton Peters volunteered at the polls on November 3 in Daly City.
Due to this year's unusual circumstances with increased mail-in ballots and early voting, it did not look like a typical Election Day.
"There were some really slow moments, where there was no one for 10-15 minutes, but especially for the first part of the day, there were probably like two people at a time max. Later, near the middle of the day, there were more people, but only one one time was there more than six people at a time," said Chopoff.
After arriving at a polling station in San Carlos at 6:00 AM, Chopoff and Peters were then sent to work in Daly City, where they worked for the rest of the day. They ran the cleaning station, wiping down booths between voters, a new measure added to keep voting COVID-safe.
"I think we had a bit of a boring station, but I'm sure everyone else had a lot of fun. Overall, it was a very interesting, good experience," continued Chopoff.
This year was also unique in the levels of youth voter participation. Turnout for young voters rose by 8% since the 2016 presidential election, a testament to this generation's political activism (CIRCLE). For those who are unable to vote, working at the polls is one way to become politically involved and informed.
"I definitely think it will help me become a more informed voter in the future," said Chopoff. "I never really had any sign-up plans, but seeing all the young people and first time voters definitely made me want to vote when I have the opportunity."
While this election has passed, there are still many opportunities in the future to get involved in the process of voting. To become a poll worker, students must fill out an application and wait to be approved.
"This is [something that I would recommend to other students]. It was a good experience," said Chopoff. "I learned a lot about how people are very proud of voting… I wouldn't say that it really taught me much about the democratic process that I didn't know from history, but it was really interesting to see it happen in person."