News in brief: Freshman class comes together on Zoom for their retreat
"
"I felt like it wasn't very interactive and it sort of felt like a lecture." "
The freshmen were supposed to have their first on-campus class retreat on November 18. However, due to safety concerns and various other reasons, the retreat was moved online.
The morning consisted of a lot of ice breakers and breakout rooms. The hope was that the freshman class would finally meet each other face to face, but it didn't really turn out that way.
From 9:30 to 12, the Freshmen logged onto a Zoom call for their retreat. They were placed into breakout rooms with about six other girls and one teacher per room. The teachers ran their breakout rooms and had some activities and discussions planned.

Loading ...
The teachers tried their best to get everyone excited, with fun Zoom backgrounds and team names. Despite the teacher's best efforts, it was not an easy task for some girls to meet new people and have the ability to bond with one another.
"I already knew a lot of the girls in my group so I didn't really get to bond with anyone," said freshman Anna Ansari on the retreat.
Ansari also included that she would rather have had multiple groups that change every 10 minutes so there would be more of a variety of people to meet. This way it would have been a lot more interesting since she found it to be a little boring.
"I felt like it wasn't very interactive and it sort of felt like a lecture," said another freshman Annie Lester.
This whole year has been looking a lot different than it normally would. However, Lester and Ansari, along with most of the freshman class, stay hopeful and excited about their futures at NDB once in-person events can resume.
Leave a Comment
About the Contributor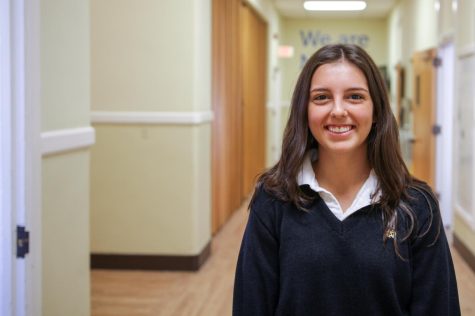 Mia Muzzi, Managing Editor
Mia Muzzi is a junior at NDB and is the Managing Editor for The Catalyst. She spent her freshman year as a Staff Writer, then during her sophomore year...