Spirit Week
"
"I really feel dedicated to working with the students and having them see that the teachers are enthusiastic," said Kuntz, "for me that is the most important thing."
NDB's annual Spirit week took place during the week of October 26 this year. Normally the Halloween activities would be on campus but this now they are all virtual.
On Monday, the festivities began with The Baking Decorating Contest. The students got to make any type of spooky dessert and decorate it however they wished. There was a winner for three different categories, each decided by ASB. Megan Worry was very proud of the dessert she baked. She made a chocolate chip brownie and decorated it with sprinkles of different colors and sizes to make it festive.
"I had a lot of fun baking it with my sister, she actually helped a lot with the baking part." said Worry.
On Tuesday, Zoom looked a lot more festive with everyone's original Spooky backgrounds. The challenge was to create your own Zoom background and take a screenshot of it being used to get spirit points.

Loading ...
Then, Wednesday's competition was to make a terrifying TikTok. The scary TikToks were sent to ASB for them to judge. Freshman Anna Ansari was especially excited for this challenge.
"I enjoy making TikToks with friends and by myself so this was a fun way to show spirit for school," said Ansari, "I actually really looked forward to it."
Thursday's spirit activity was the infamous pumpkin carving contest. Students had to be thoughtful and compete to win under the categories of Funniest, Most Creative, and Best Overall pumpkins.
The last day, Friday, of spirit week was the most favorited costume contest. Though this year did not receive as widespread participation as usual, due to it being online, Many teachers and students did enjoy dressing up and showing off their Halloween costumes. Martha Kuntz, an art teacher at NDB, is known for always making her costumes by hand. She loves getting in the spirit and was super excited to see everyone's costumes over zoom this year.
"I really feel dedicated to working with the students and having them see that the teachers are enthusiastic," said Kuntz, "for me that is the most important thing."
This spirit week offered a lot of fun and festivities to get the everyone at NDB excited for Halloween, and despite the lack of the in person sense of tradition and community, they were still able to keep the Halloween spirit alive.
Leave a Comment
About the Contributor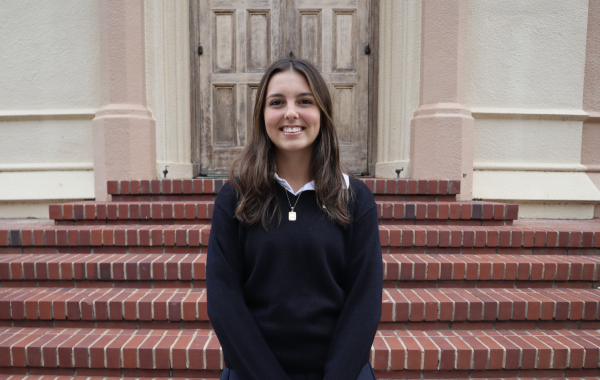 Mia Muzzi, Editor in Chief
Mia Muzzi is a senior at NDB and is in her fourth year of working for The Catalyst. She spent her freshman year as a Staff Writer, then during her sophomore...