Minority representation on Netflix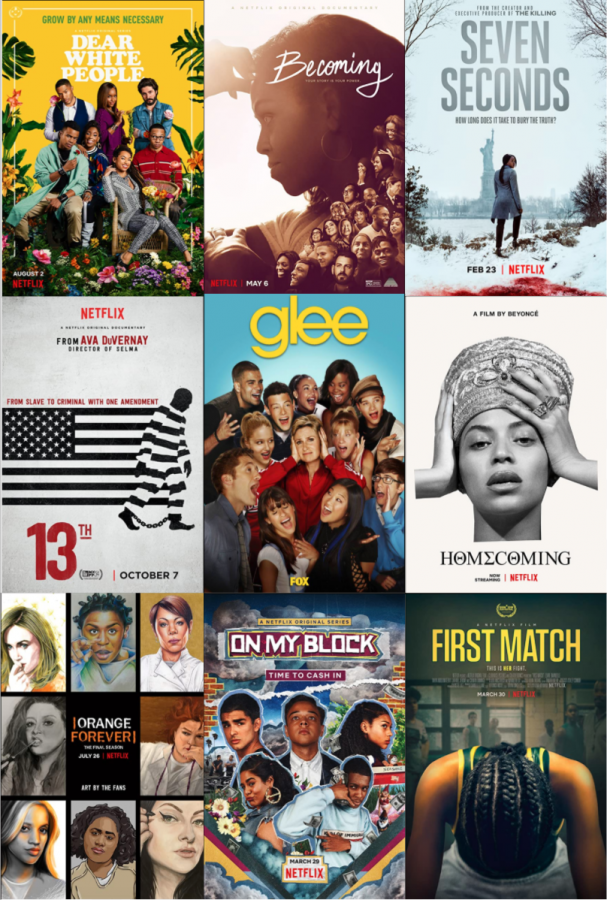 In order to embrace ethnic and cultural diversity, here are nine popular TV shows and movies that incorporate a wide variety of representation.
"Dear White People"
This show follows the lives of Black Ivy League students. "Dear White People" centers around race-related issues experienced at many different colleges around the globe that are often swept under the rug. This series can be a source of inspiration for high school students who are considering the next stage of their education or college students who are looking for characters with who they can relate to. "Dear White People" Season 1 was released April 28, 2017 on Netflix.
"On My Block"
A teen drama about a group of inner-city kids, living in a predominantly African-American and Latinx Los Angeles neighborhood. "On My Block" embraces diversity in a believable way that is lacking in other modern teen television shows. Its storylines tackle real teen issues, such as social isolation and managing friendship, while interweaving events of racism and violence. "On My Block" premiered on Netflix in March 2018.
"Homecoming"
This is a film co-directed by Beyoncé about being at the peak of her power, documenting her otherworldly performance at the 2018 Coachella music festival. Beyoncé uses her platform at the festival and on Netflix to celebrate Black culture, specifically Historically Black Colleges and Universities (HBCUs). This is executed through iconography and performers from Black institutions and through quotes from Black leaders and intellectuals. "Homecoming" is an unapologetic, unequivocal statement from one of the world's biggest pop stars that she is a Black woman first and foremost. It was released on April 17, 2019 by Netflix.
"First match"
This Netflix original movie, directed by Olivia Newman, tells the story of a young Black girl from Brooklyn who joins her high school's all-male wrestling team. This has to do with how girls who do "boy" sports are undermined and boys think that they are stronger than them. It also examines the racism that is in our everyday lives. It was released as an original on Netflix on March 30, 2018.
"Seven Seconds"
Surrounding the case of a white New Jersey cop, who accidentally runs over and kills a young black boy, "Seven Seconds" shows how he and his fellow officers cover up the fatal crash. In 10 episodes, this Netflix original unravels the mystery as the boy's family and friends struggle for answers and closure. It is a story that shows the realities of the American justice system.
"Orange Is The New Black"
The prison show that everybody knows. OITNB has a wide variety of female inmates from a wide variety of cultures and ethnicities, in a wide variety of socioeconomic and emotional situations, all given their shot at being the center of the story. The show premiered on Netflix in 2013.
"Glee"
Released in 2009, "Glee" is a show known for putting observations on gender, sexuality, relationships, disability, family, and teenhood into music. The non-stop re-engineering of classic songs into pop acapella hits is accompanied by deep storylines regarding social justice issues.
"Becoming"
This exclusive documentary follows former first lady Michelle Obama on her sold out book tour "Becoming", inspired by her best-selling memoir. Not only does it bring the words of her inspiring story to life, but viewers also get a few cameos from her husband President Barack Obama and daughters Malia and Sasha. "Becoming" was released on Netflix on May 6, 2020.
"13th"
Ava DuVernay holds nothing back in this eye-opening documentary about institutionalized racism in the United States, which focuses on the disproportionate placement of Blacks in prison. Along with a slew of activists and scholars, featured contributors include Van Jones, Cory Booker, and Angela Davis. The film was released on October 7, 2016 on Netflix.