Remembering RBG
Ruth Bader Ginsburg, the longtime Supreme Court Justice and feminist icon passed away on September 18, 2020. She was playfully nicknamed "The Notorious R.B.G." by a law student, a reference to rapper The Notorious B.I.G. Ginsburg graduated from Columbia Law School to become a courtroom advocate for the fair treatment of women. She was appointed by President Jimmy Carter to the U.S. Court of Appeals in 1980 and appointed to the Supreme Court by President Bill Clinton in 1993.
Justice Ginsburg, formally named Joan Ruth Bader, was born March 15, 1933, in Brooklyn, New York. Ruth attended Cornell University in 1954, earning her bachelor's degree in government. After graduating from Cornell, Ginsburg attended Harvard Law School.
At Harvard, Ginsburg learned to adapt to a male-dominated environment with only eight other females in her class of more than 500. Ginsburg and her female colleagues were seen as "comic relief" and were excluded from using certain library sections. These were just a few examples of gender discrimination Ruth faced during school. Ginsburg then realized that the unfair treatment of women needed to change.
RBG truly accomplished her dreams of achieving justice for women and minorities. She was instrumental in the decision for the legalization of same-sex marriage on June 26, 2015, having shown public support for the idea before it was legalized and by officiating same-sex marriages. She also served as the director of the Women's Rights Project of the American Civil Liberties Union, for which she argued six landmark cases on gender equality before the U.S. Supreme Court.
"I said on the equality side of it, that it is essential to a woman's equality with man that she be the decision-maker, that her choice be controlling" said Justice Ginsburg.
It is especially important to remember Ruth Bader Ginsburg and her many successes and accomplishments for women because of the sisterhood we share at NDB. Sexism and gender inequality still prevail, but if we go out in the world and fight to have our voices heard and make changes just as Ginsburg did for us, then we can build on her legacy. She inspired all women as a pioneer for gender equality throughout her distinguished career.
Leave a Comment
About the Contributor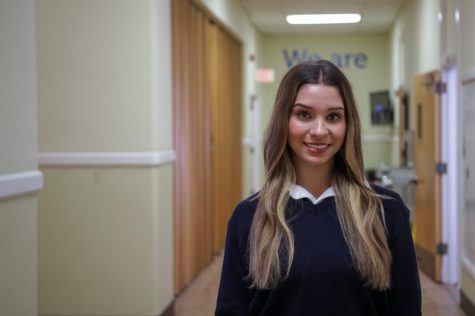 Ava Marinos, Opinion Editor
Ava Marinos is a senior at NDB and is excited for her third year with The Catalyst. She actively participated in the club as a sophomore and junior and...