MLB and NFL adapt to COVID-19 safety protocols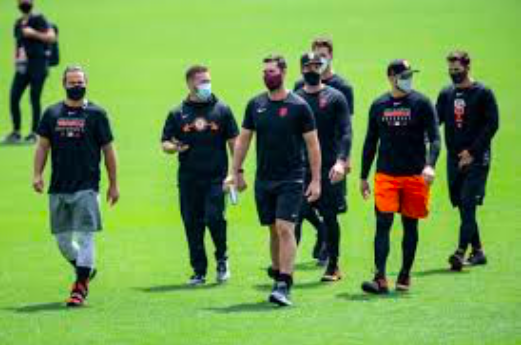 "I'm very thankful how avid and how intense the Giants have been with our protocol." Outfielder, Hunter Pence
You guessed it, professional sports are back…with new COVID-19 guidelines of course. Since the season started in July, multiple teams in the MLB have already undergone outbreaks, such as the Miami Marlins and the St. Louis Cardinals. Since multiple players have tested positive for the coronavirus, there have been new updates put in place to slow the spread, which includes strict rules regarding testing and face coverings. Now, any player or staff member who continuously violates the COVID-19 protocols will be punished with suspension from both regular season and postseason. All MLB personnel are now required to wear face coverings whenever they are outside, with an exception of when one is playing on the field or when one is in their individual hotel room. If a player or coach is seen refusing to wear a mask starting in October, the MLB could enforce fines and/or suspensions. 
When the teams travel, it is now mandatory that each player and staff member wear surgical masks. Due to incidents that have previously occurred, when teams are on the road, players and coaches must get approval from their compliance officer, before being allowed to leave their hotel to go into public areas. The MLB organization has also developed more intense contract tracing.  MLB is not yet allowing sports teams to have fans flood into their stadiums. The giants, for example, have found a creative way to incorporate team spirit into their game days. Fans can submit photos and have them turned into a cardboard cut out, to be placed in the stadium seats.

Loading ...
As for the NFL, they had the advantage of watching other sports during COVID-19 and following what worked for them and what did not. The NFL guidelines most closely resemble Major League Baseball. Although, the NFL faces many more challenges than other sports leagues might. Players are consistently up in each other's faces, tackling one another after every play. The last official NFL game was played in Miami, back in February. This was around a week and a half after the first notification of the virus was detected in the U.S. Since the start of football, players have been tested every single day, including during training camp and practice. 
There are thousands of players throughout the NFL, with only six testing positive, so far. Continuous testing will obviously be occurring throughout the duration of the season. Some teams, such as the Dolphins, Jaguars, Browns, Cowboys, Colts, and Chiefs, are allowing fans at their home openers, with reduced capacity guidelines in effect. Fans of the San Francisco 49ers, much like the SF Giants, will have the opportunity to purchase a cardboard cutout to be placed in Levi's Stadium. It will be interesting to see how the NFL and MLB work through the season, as well as how this will affect the professional athletes.