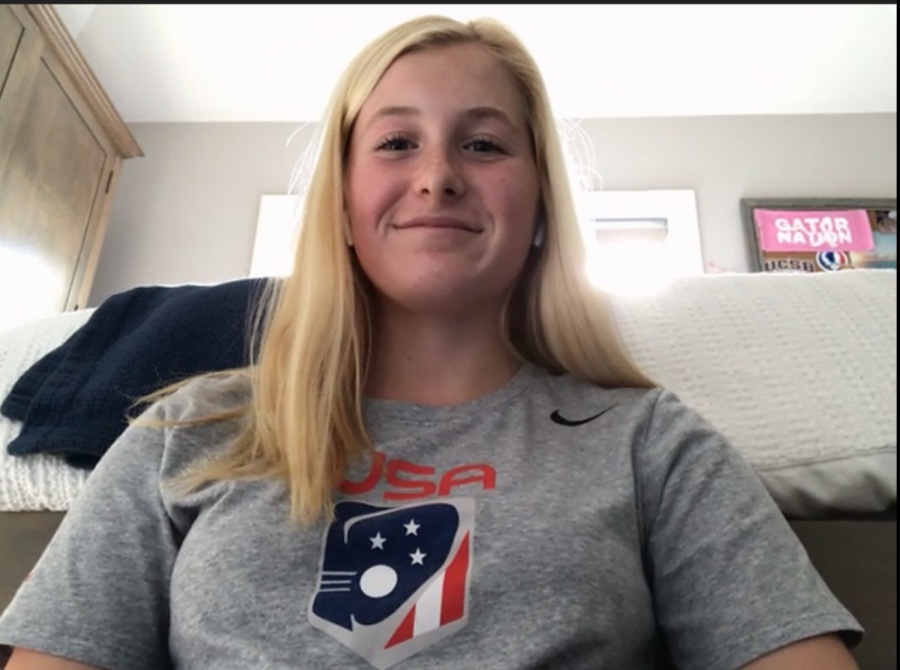 The Catalyst / Photo courtesy of Kathryn Kalinowski
Kathryn Kalinowski, freshman at Sacred Heart Preparatory
Since many schools have closed due to the coronavirus pandemic, many high school students are going to school online in what is called distance learning. Some of them communicate with their teachers via email or websites, like gClassroom and Schoology. Others participate in online classrooms via video conferencing apps, like Google Hangouts and Zoom. The Catalyst interviewed Kathryn Kalinowski, a freshman at Sacred Heart Preparatory, about her experiences going to school online.
The Catalyst (TC): What's a typical day of school like for you?
Kathryn Kalinowski (KK): A typical day is first class is at 8:30 a.m. to 11:15 a.m., and then second class is from 12:15 p.m. to 3:00 p.m… or we either have one class and then office hours… or just on Wednesdays, we'll have late start.
TC: How are you coping with shelter in place and keeping in touch with your friends?
KK: So far, it's been good. I've just been checking in with my friends every day and just asking how their classes are going.
TC: How has life at home been with shelter in place?
KK: Life at home has definitely been different from what it was because, now, we're always together, whereas before, I would see… my family members [at] breakfast and dinner… I feel, now, we're obviously closer, but it's more forced to spend time together, whereas during normal weeks, we would just hang out together because we wanted to. 
TC: Do you wish Sacred Heart Prep did anything differently with distance learning?
KK: I wish we did more than just one class a week, but that's really it.
TC: What do you miss the most about going to campus?
KK: I miss seeing my friends every day and having lacrosse or sports practices after school because I feel it's really nice.
TC: What do you like the most about distance learning?
KK: Something I like the best [about] distance learning is I get to basically plan my own schedule of when I want to do work and when I can or can't get assignments done. So, I feel it's much nicer because I have the time… I have the flexibility of my own schedule.