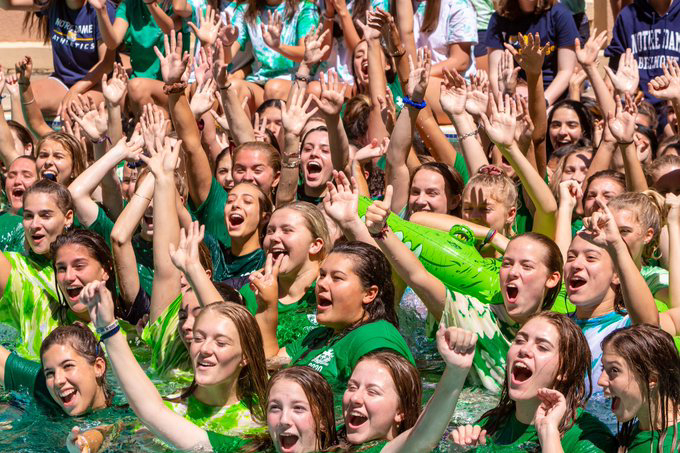 The Catalyst / The Catalyst
Avery McGlinchey, '20
NDB community reflects on the postponement of Aquacades 2020 during the coronavirus pandemic
The Catalyst interviewed Avery McGlinchey, senior, about what would have been Aquacades.
TC: Friday would have been Aquacades, but it was canceled due to the coronavirus pandemic.  What do you have to say about that?
AM: As a senior, Aquacades this year was supposed to be the most special year. I put in a lot of hard work throughout the year leading up to Aquacades, and I am so sad that we won't be able to have it this year. I feel for everyone who was in a routine and put time and effort into this event. Although Aquacades being cancelled is not fun at all, it is most important that people are safe and healthy. Everything happens for a reason.
TC: If we come back to school before the end of the year, do you think Aquacades should be rescheduled or should it be canceled?  If Aquacades rescheduled during the summer, would you be willing to come celebrate it then?
AM: I think that Aquacades is such an important event that I would be more than willing to come celebrate during the summer. If we set out a date for everyone to come, I'm sure people would love to participate 
TC: People usually look at pictures or videos of last year's aquacades to learn what it's about. One year from now what do you want people to know or remember about aquacades?
AM: In a year from now, there won't be any videos to represent aquacades 2020. Although this is unfortunate and sad I think that we should still recognize the hard work that was put into aquacades. If we as a school get together and come up with ways to show later classes our routines and or walk ins without having the actual event, it would make us feel less bad about not being able to experience a 2020 aquacades