Review: Mario Kart
Hang on for a minute...we're trying to find some more stories you might like.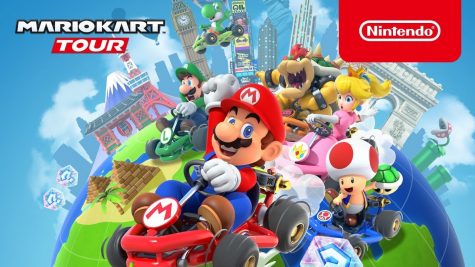 Mario Kart Tour is a kart racing mobile game that has recently made headlines for becoming Nintendo's biggest mobile launch in the first week with a staggering 90 million downloads according to an app analytics platform, Sensor Tower.  With a simple link of a Nintendo account, one can race against an array of Nintendo characters in a series of tracks that require one to drift, glide, and collect power-ups in order to rack up points that will add to their total score. The game is completely free to play, even coming with a two-week trial that allows one to use the Gold Pass which offers in-game benefits like "Gold Gifts", special badges, and the fastest game mode: 200cc.  
Unfortunately, however, Mario Kart Tour is yet to offer a multiplayer option that would allow for a player to race alongside friends or other real-life racers.  Nintendo has definitely tried to make it seem as though one is playing against other live players by using unique screen names that a real person might use and by occasionally having duplicate racers and/or karts which often happens when playing other Mario Kart games.  For the moment, the multiplayer option in the menu is grayed out, making the "Friends" tab the only aspect of the game so far to allow players to interact through means of adding each other's ID numbers and comparing position in the game's ranking system. The actual release day of a multiplayer option has yet to be announced which could potentially mean days, months, or years until its eventual implementation into the game.  Despite this lack of a multiplayer option, the game's addictive nature reigns true as ever since its release, thousands have been playing nonstop, thoroughly enjoying what the app has to offer.  
"I really love the game.  The ability to choose different characters and the different tracks that they allow you to play on are so fun.  I haven't put my phone down in weeks!" Annika Pajarillo, a self-proclaimed Mario Kart aficionado, said.

About the Writer
Claire Tierney, Staff Writer
Claire Tierney is currently a senior at Notre Dame Highschool and is one of the staff members of the NDB Catalyst. She has a passion for writing and always...