VSCO girls and e-girls kick off Spirit Week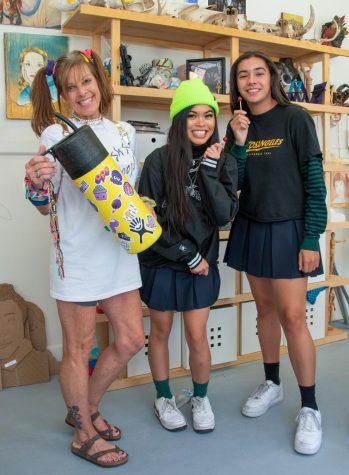 As Halloween rolls around, NDB enters Spirit Week, five-days filled with crazy costumes and competitive contests.  Many students have begun preparing their costumes for all of the exciting theme days. Spirit Week is NDB's annual tradition that gets students excited for Halloween or, as it is known on-campus, Dingbat Day.
This year, ASB introduced four theme days that they believe are new and unique to the week that begins Thursday, October 23 and ends on Thursday, October 31.
The first day and so far, the seemingly most popular day, is "VSCO Girl versus E-Girl Day." Based on two groups in the Tik Tok social media app community, a VSCO girl is someone who wears oversized T-shirts and scrunchies, carries around her Hydro Flasks with friendship bracelets and stickers, and posts a lot of edited pictures of herself on the VSCO photo editing and social media app, while an e-girl is someone who wears dark clothing, dramatic make-up, and colorful hairstyles. It is an easy look to create and be creative.
The second day was postponed because the freshman class and many upperclassmen were off-campus on the Freshman Retreat. It was the usual Modified Free Dress Friday.
"We canceled 'Pajama Day' because it wouldn't be fair for the freshman because they would not be able to dress up. And, it also would not be fair to the juniors because thirty of them are going to the freshman retreat," Dean of Student Life and Leadership Rachel Shanley said. 
As a result, "Fridays are for the Boys" was moved to Monday, canceling the formerly announced "Pajama Day" and renaming it "Bro Day." Although there was some minor upset from the student body, many students seemed okay with the new day. 
"I understand why they canceled 'Pajama Day,' and overall, I'm really excited for 'Bro Day' because it gives me a chance to express my inner-Serra boy," senior Alex Loos said.
"To be honest, it doesn't really matter because, either way, I was going to wear sweats," senior Jade Costello said.
The last three theme days of Spirit Week are "70's and 80's," "On Wednesdays, We Wear Pink," and Dingbat Day, and all of them are going to get a lot of attention. Although they seem like easy dress-up days, many students are making plans for their outfits.
"I know many people think 'On Wednesdays, We Wear Pink' is a boring spirit day, but I am ready to go all out!" Senior Callie Malone said. "Catch me wearing everything pink!" 
Dingbat Day is the final day of Spirit Week, and many students are finalizing their costumes and getting ready for the rally.
"Halloween is for sure my favorite day! I'm so excited to dress up with all of my friends and show everyone our awesome costume," said senior Josie Rencoret. 
Something new to this year's Spirit Week are the daily costume contests. Rather than the Dingbat Day costume contest where winners are announced later that day at the rally, ASB introduced a new set of contests with the opportunity to earn more spirit points. Every day, a secret staff member looks at students' costumes and, at the end of the day, five students with the best costumes will earn given extra spirit points for their classes.
Social Sciences teacher Wendy Connolly went undercover for Thursday's "VSCO Girl versus E-Girl Day" and picked out freshman Krista Mananquil, sophomore Riley Fisher, juniors Mia Adao and Chloe Powell, and senior Adelaide Coulson.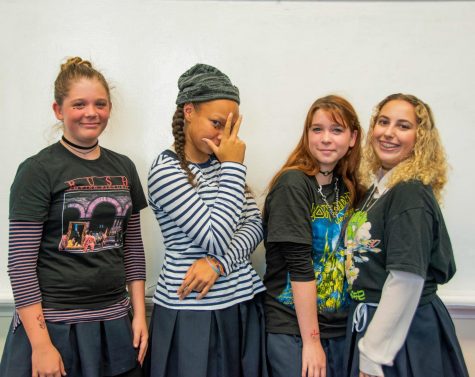 Spirit points can also be earned everyday by checking-in at lunch and on the last day at the Dingbat Day rally.