Spirit points create tension
Hang on for a minute...we're trying to find some more stories you might like.
As a senior, I have seen the effects of spirit points on my own class across the past four years, as well as within other classes. Ultimately, they have done less to bring us together than to tear us apart.
Everywhere you turn at NDB, spirit points are dangled in front of students as an arbitrary incentive to attend more sports games, to cheer louder at rallies, and to donate more money to drives. Students no longer participate in drives out of the goodness of their hearts or in school activities such as these for the fun of it. They do it out of fear of harassment from their classmates and ridicule from other classes.
With the Turkey Bowl and Aquacades routines, where spirit points are offered as an incentive to sign up, a new rule had to be established that points would be taken away from students who were chosen to participate and then decided to opt out. Why would this have had to happen, if not that students faced such immense pressure to sign up for the spirit points that they were putting their names on activities that they actually held no genuine passion for?
There is nothing wrong with friendly competition, and with some students getting more into the spirit point competition than others. However, the issues stem from spirit points representing more than just friendly competition, but a sense of being "better than," a sense of proving to others that your class is good enough, that you and your classmates are worthy. This toxic culture has led to students hounding others if they do not participate in competitions that will earn them spirit points.
Personally, I have seen my friends moved to tears after having classmates yell at them about selling raffle tickets. I have had people grab my arms and put them up at Aquacades. I have had people scream in my face at rallies. I have heard students offer to cheat to win contests, and see them do so on spirit week days. And, the stress of spirit points has increased my social anxiety to the point that I asked my mom if I could skip school the day of this year's Ding-Bat day rally. All of this, for a tally of made up numbers.
Spirit points do not encourage sisterhood. They provoke stress and drama surrounding every event that they are offered at, and they drive students to tear each other down rather than lift each other up. Sisterhood would actually be strengthened at NDB if spirit points were done away with altogether.
Wouldn't our community be stronger if we attended one another's games not just to earn points, but to support our friends? Wouldn't our community be stronger if we gave to those in need out of the goodness of our hearts, not out of a selfish desire to win? Or, perhaps most importantly, wouldn't our community be stronger if we respected one another's choices of what we want to participate in and care about, rather than assuming that our beliefs should extend to everyone else?


About the Writer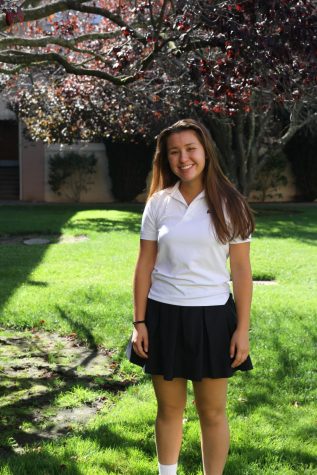 Johana Ligtenberg, Editor in chief
Johana Ligtenberg is a current senior and member of the Titan class of 2019. As the Editor-in-Chief, Johana Ligtenberg oversees all department editors...