Cross Country Team Grows
Hang on for a minute...we're trying to find some more stories you might like.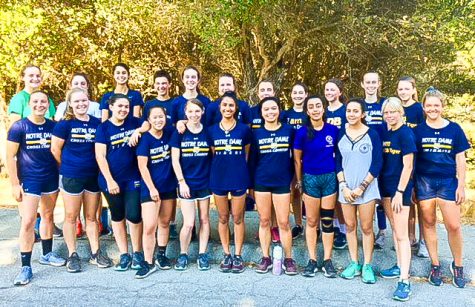 While they were pleasantly surprised by last season's success, coaches Michael Benedetti and B.J. Wright have even bigger plans for this season's cross country team. After last month's tryouts, the team has grown significantly from last year's 13 members to this year's 22 members.
The first meet took place at Toro Park in Salinas on September 8. JV placed third in their race. Varsity also had a great first meet as parents, coaches, and teammates cheered on the runners. In the second meet at Hayward HS, the Frosh-Soph girls placed third as a team, with one runner medalling for being in the top 25 for that race.
Sophomore runner Chloe Powell says, "I have high hopes for our team, especially with the new runners this year. We have a lot of talent."
During practices, the team works to run in a pack and push each other to become better runners. Team captain Quinn Meinhardt says, "We've been working harder, training more, eating better, and staying hydrated. We want to improve this season."
Last season, the varsity team qualified for CCS finals for the first time in over a decade.
The coaches hope to have a team going to the state championships within the next few years. Benedetti said, "Barring injury, I think we could be a top three team in WBAL, and I'd like to see us be in the top five teams in the league […] JV may have a chance to compete for the league title."
Reflecting on past student-athletes, Benedetti said, "The biggest thing for B.J. and I was watching the runners grow as a team, and that's what enabled us to believe that they could go to CCS. As they got stronger, they believed in each other, their confidence got stronger."
Determination and perseverance fuel the girls on the team as they encourage each other and learn to be better runners. After an exciting team bonding trip to Yosemite, the NDB cross country team is stronger than ever and geared to reach their season goals.