Tri-School Productions begins spring musical: "Matilda"
For the 2022-2023 school year, Tri-School Productions has decided on "Matilda" for its spring musical. Vocal auditions were held November 28 through 29, where auditionees sang a song of their choosing in front of the musical director and choreographer.
That same week on Thursday, December 1, dance auditions were held, where hopeful cast members learned routines in the style of the musical. They learned a hip-hop style dance to "Revolting Children," one of the most popular songs from the musical.
After both of these auditions, a callback list was posted on the Tri-School Productions website which announced the roles that auditionees would be considered for. This list was posted the night of December 1, and those on that list were expected to practice the material for that role, including songs and acting lines.
The callbacks list announced principal roles, as well as a list of those called back for ensemble rules, including featured dancers and school children. Those who got called back were expected to act, sing and dance on stage in front of the directors, to try their best to impress the judges and obtain the role they desire.
Most of the hopeful cast members already know each other, whether that be from school or from previous plays and musicals. Members are a tight-knit community, even going into auditions, which makes the audition process more comforting.
"I'm most excited to have one last show with the Tri-School Productions family," said Isabella Hildebrand-Veccia, a veteran of Tri-School Productions. "The people are what make these shows so special, and I'm so grateful that I've gotten to know so many of them."
Other seniors are also returning to Tri-School Productions for their last musical with their Serra brothers and Mercy sisters.
"As a senior, I just hope to go out with a bang," said senior Megan Cabral. "I want to enjoy my last performance with my Tri-School family. I want to have fun and leave my lasting mark on this program. Also, there are lots of fun traditions for seniors and I can't wait to finally be able to participate in them."
Tri-School Productions provides a great opportunity for students to try out not only for the roles they want, but for a chance to take part in an unforgettable experience.
Leave a Comment
About the Contributor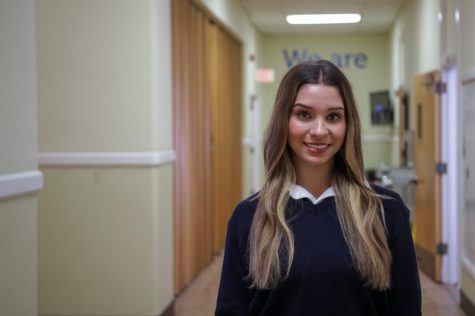 Ava Marinos, Opinion Editor
Ava Marinos is a senior at NDB and is excited for her third year with The Catalyst. She actively participated in the club as a sophomore and junior and...