Q&A with Ashna Tumuluri on squash
The Catalyst sat down with senior Ashna Tumuluri, who is a nationally ranked squash player. She has been playing the sport since she was 10 and has developed a deep passion for it. She manages to compete at a high level, traveling all around the country for tournaments, while still keeping up with her school work.
The Catalyst (TC): When did you first start playing squash and what got you into the sport?
Ashna Tumuluri (AT): So I started playing when I was 10 … At the time I was playing tennis as well. I was introduced by my dad because he played club college squash … He saw that there were squash camps during the summer that were going on, so he signed me up for them.
TC: What does your practice and competition schedule look like?
AT: I practice six days a week and then I rest on Saturday. So, it's pretty difficult. It's a lot of clinics and then also doing fitness by myself … I also have to fit in match play as well. I have to integrate a lot of different things into my schedule.
TC: Do you find it challenging to balance squash and school?
AT: Yeah, I definitely do find it challenging. I feel like I have to prioritize a lot of the time. Sometimes I have to prioritize my squash over school when there's an upcoming tournament or sometimes I have to prioritize school over squash. It's hard to find a balance a lot of the time, but I seem to make it work.
TC: What do you enjoy most about playing squash?
AT: I feel like squash has brought me things on and off the court. I've created so many friendships that I never thought I would make. And then on the court, I feel like I've acquired a lot of mental strength [and a] work ethic that I can use in school.
TC: What do you want other people to know about squash?
AT: I felt like a lot of people don't know what it is and also how difficult it can be. Squash is both fun and a big time commitment. You have to dedicate so much time on your own and you also have to be willing to give up things, just like any other sport. I wish it was more well-known [on] the west coast.
TC: Are you planning on playing squash in college?
AT: Yeah, I'm planning on playing squash at the University of Pennsylvania … I'll be in the Wharton School, so I'm excited for that.
Leave a Comment
About the Contributor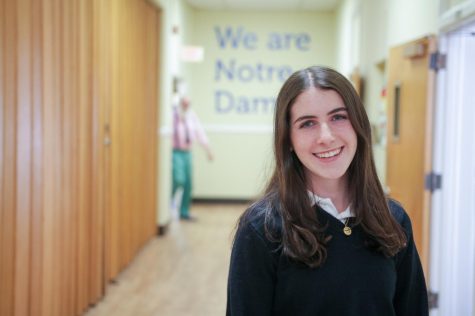 Genevieve Klein, Opinion Editor
Genevieve is a senior at NDB and is one of the Opinion Editors for the Catalyst. This is her first year on the Catalyst Staff.

She plans to major in...