Thanksgiving runs and walks in the Bay Area
As Thanksgiving approaches, it is a great time to sign up for local turkey trots in the Bay Area. Depending on which city you reside in, there is a run or walk near you. Many of these raise money for charity, and allow you to get outdoors with your loved ones and family on Thanksgiving.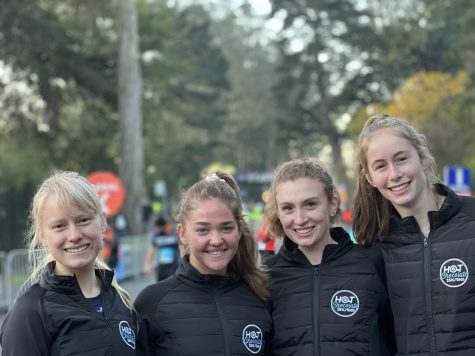 The first turkey trot is very close to NDB, as it is located in Belmont. More specifically, it begins at the Lutheran Church of the Holy Comforter. The Belmont Turkey Day 5k is a distance of 3.11 miles and begins at 8:30 a.m. The run benefits two local charities: S.O.C.K.S and Catherine's House. Participants do not need to register prior, but do need to sign a waiver when they arrive.
If you live more towards San Mateo, then you are in luck because A Runner's Mind is hosting their eighth annual Gobble Wobble. This Bay Area's local run specialty store is hosting their run at Coyote Point Park in San Mateo. Their 5k begins at 8:15 a.m., and after there will be a kids dash. Furthermore, they will have a festival and award ceremony. Their charity of choice is the Lakas Shimizu Foundation. You may register up until the day of the race, and packets are picked up on November 23.
In the Bay Area there will also be virtual runs, where you can run from your area at any time with family and friends. Burlingame Parks and Recreation is hosting the Parks and Rec Gobble Wobble Virtual Run this year. It is a run designed in Burlingame, as they have provided seven different routes all within the city. The course length ranges from 1.22 miles to 2.56 miles. It will be a great time to exercise while exploring the beautiful city of Burlingame.
For the more competitive racers, there is a Spartan Turkey Trot which takes place on a track. There is a one mile race, 5k race and a 60 and 400 meter dash held for kids. The event takes place at Mountain View High School, and begins at 8:30 a.m. All proceeds will benefit the high school's athletics department and supporting teams and clubs. Registration occurs prior to the races, and allows you to compete in every event. This is definitely the most unique turkey trot in the Bay Area, and participants compete intensely for awards.
The most classic turkey trot occurs in, of course, San Francisco. The 20 annual Thanksgiving Run and Walk will take place in the beautiful Golden Gate Park, beginning at the Polo Field. Three races occur, the first being the Turkey Trail Trot which is five miles. Secondly is the Pilgrim Promenade which is three miles. Lastly, there is a Kids Gobbler Chase, which is a mere 100 meters. Costumes and a silly attitude are highly recommended for this race. All proceeds will help benefit the Lowell HS Track and Cross Country Teams. If you would like to participate, register soon as it is an extremely popular and fun event.
The last turkey trot is also a very large race, and takes place in San Jose. The 18 Annual Silicon Valley Turkey Trot occurs in Downtown San Jose, on Santa Clara Street and 1st Street. There are many fun competitions occurring throughout the race, such as a costume contest. The 5k and 10k begins at 8:30 a.m., followed by the Kids Fun Run at 10:30 a.m.. This turkey trot supports the Healthier Kids Foundation, Second Harvest of Silicon Valley, Second Harvest Food Bank Santa Cruz County and The Health Trust. In the past they donated a total of ten million dollars to local charities.
Thanksgiving is the perfect day to spend time with family and friends to support local charities in the Bay Area.
Leave a Comment