NDB's annual Dingbat Day rally serves as an exciting end to Spirit Week
On October 31, the NDB Tigers held their annual Dingbat Day rally. The NDB Spirit Squad, introduced by Jonathan Tomczak, opens the rally, leading the crowd with their radiant spirit. The NDB Tigers brought with them their class spirit and excitement to the Moore Pavillion, as they welcomed ASB.
ASB had a "Toy Story" theme for the rally, and even dressed in character, opening with a video to kick-off the activities. ASB offered some exciting games, including pumpkin toss, where players have to throw a pumpkin into a caldron with a blindfold on.
"I loved cheering on our classmates and sister class as they competed in the mummy wrapping tradition during the rally," shared senior Clarissa Wing. "I also really enjoyed watching the new game ASB created where opposite sister classes had to chase each other to fill their trick-or-treat bags with candy."
The Spirit Squad, with two prepared spooky dance routines, were the first to perform, leading the crowd into the festivities.
"This year, the groups started earlier in September to begin planning for the rally," said junior and NDB Varsity cheerleader Ashley Strain. "Even with maximum preparation, the groups were still nervous to perform. They still ended up putting on a great show."
The squad coordinates their costumes and themes for their routines.
"The juniors and freshmen decided to have the juniors be Ghostbusters and the freshmen be ghosts," Strain explained. "Our music correlated with the Ghostbusters theme as well."
To close out the rally, ASB allowed each other winners from the previous games to choose one officer to pie in the face. This was an unexpected surprise to the crowd, ending the rally with full excitement.
The Dingbat Day rally serves as an opportunity for students to celebrate Halloween, and cheer on for both their class and sister class. Also acting as a spirit point event, each class brings their all to each activity. NDB students and staffulty look forward to the rally, as it serves as a great end to NDB's Halloween Spirit Week.
Leave a Comment
About the Contributor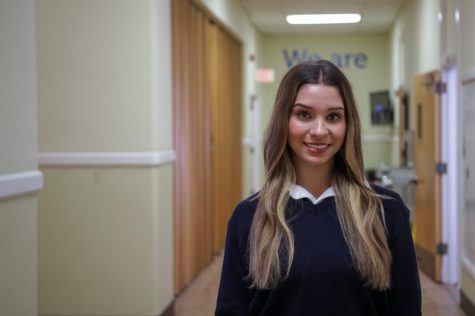 Ava Marinos, Opinion Editor
Ava Marinos is a senior at NDB and is excited for her third year with The Catalyst. She actively participated in the club as a sophomore and junior and...