Viewpoint: College Board's pledge to make the SAT more accessible is untimely and disadvantaging to past test-takers
Earlier this year, College Board announced that the SAT will undergo several changes that will take effect in the U.S. in 2024. In a press release, Priscilla Rodriguez, vice president of College Readiness Assessments at College Board states, "the digital SAT will be easier to take, easier to give, and more relevant."
A student's desire to achieve perfection and earn the highest possible SAT score persists. But with College Board's recent SAT change, has that bar been lowered? Even with certain colleges advertising their "test-optional" or "test-blind" policies, this test still highlights a student's readiness for college. Nevertheless, the value of test-taking has changed for the worse. Students used to be forced to take the SAT in its regular three-hour format. But now, future students will experience the luxury of an easier, digital, two-hour-long counterpart.
Where has this leeway been for the past generations of SAT test-takers? While I chose to not take the SAT due to applying to test-blind schools within California, I vaguely remember signing up to take one in San Francisco. Just a week before I was due to take it, the testing center closed.
Making the test easier both in content and in accessibility feels considerably unfair to all those who stressed over those hard reading passages or desperately tried to find a location to take the test.
Proximity to testing centers is another notable issue. As test centers fill up quickly, it is difficult to find a test center available close by. NDB seniors have definitely experienced these hardships.
"I made the trek out to Turlock, California. It was the closest I could find a seat, even though it was still a 3 hour drive because of Bay Area traffic," shared senior Ella Ebert. It was a more expensive experience than it would've been if I had taken the test locally. I had to pay for dinner the evening before, a hotel room so that I could maximize my rest the night before, and breakfast before the test. This is ignoring the financial and environmental cost of gas," Ebert continued. "The SAT going digital would save so many families the cost of travel for a relatively short event, make accommodations easier to access for students who need them, and allow a comfortable, familiar testing environment for all students."
I agree that digitalizing the SAT would be far more convenient for students, but I also feel that because of years of complications, this new digital format should have always been administered. A student's SAT score when taking the digitalized test could be way higher than someone who had to deal with the complications of taking its previous format, which could greatly affect the trends of college admissions.
"Every year, things get better at the so-called disadvantage of past students." says English Department Chair Robert Rojas. "Things change in reaction to certain events and decisions. Making the SAT digital will only help provide access to all."
While this is a valid argument, the college that a student attends is a crucial part of their life. The SAT is a mandatory part of admissions into selective colleges such as Georgetown University. The SAT being so difficult for all of the past years could have been the difference between one's rejection or acceptance to their desired college. I understand that as time progresses, improvements are made, but I still feel frustrated for those who relied on the SAT as a significant part of their application before its digital format.
I believe that College Board should have made the call to digitalize the SAT earlier. What about taking those who had suffered with the original SAT into consideration? With digitalizing the SAT, future generations of students will not be able to understand the struggles that past generations endured for the sake of a test score.
Leave a Comment
About the Contributor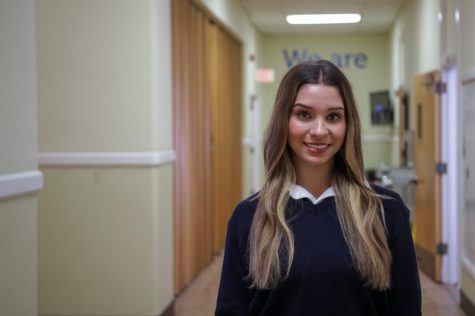 Ava Marinos, Opinion Editor
Ava Marinos is a senior at NDB and is excited for her third year with The Catalyst. She actively participated in the club as a sophomore and junior and...